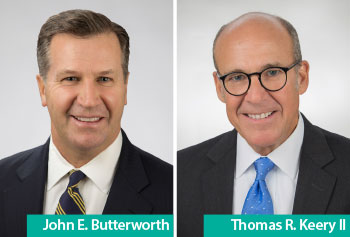 The Village Bank Chairman Kenneth C. Brennan has announced the election of John E. Butterworth of Newton and Thomas R. Keery, II of Weston to the board of directors.
"These two individuals bring a wealth of experience, knowledge, and community commitment to their new role with The Village Bank's board of directors," said Brennan. "We are sincerely pleased to welcome them aboard, and look forward to their contributions to the continued success of our organization."
Butterworth is executive vice president/partner at CBRE/New England. He has an extensive background in commercial real estate and property management and development with firms that included Meredith & Grew, Insignia/ESG, Spaulding & Slye, and Northland Development. During his career, he has been consistently recognized for outstanding achievement in the industry.
He is an active member of the Commercial Brokers Association and the Boston Chamber of Commerce, where he serves on both the Development Committee and the Life Science Alliance. A Providence College graduate, he is a member of the Providence College President's Council (Boston chapter), and the Providence College Hockey Vision Committee. He also serves on the boards of the Travis Roy Foundation and the Baystate Charitable Foundation, and is a former board member of Rosie's Place. He is a member of the Woods Hole and Woodland golf clubs and the Falmouth Yacht Club.
Keery is the general partner of the Keery Family Limited Partnership, a real estate partnership with commercial and residential properties in Massachusetts.
Prior to entering the real estate business, he was president of Frost Motors, a Newton dealership holding company representing Cadillac, Nissan, Kia, and Suzuki franchises. During his career with Frost Motors, Keery served in numerous state and national industry leadership roles, including founding and chairing the Massachusetts State Auto Dealers Charitable Foundation. His dedication to community and industry affairs earned him recognition as the Massachusetts recipient of Time Magazine's Quality Dealer Award.
Keery is a graduate of Ithaca College with a degree in communications. He is a member and past president of the Rotary Club of Newton and a member and past director of the Newton Needham Chamber of Commerce. He has been a member of the Vestry of St. Peter's Church in Weston and a past director and officer of the YMCA. He is also a longtime board member of MitoActon, a nonprofit organization whose mission is to improve quality of life for those affected by mitochondrial disorders. He is a member of Brae Burn Country Club and an avid cyclist.
Butterworth and Keery join current board members including Chairman Kenneth Brennan, Joseph Albanese, Janice Bourque, Carol Chafetz, Joseph Cosgrove, Alfonso De Vito, Joseph De Vito, Janet Fields, Victor Nicolazzo, Jr., and Walter Tennant.
Save