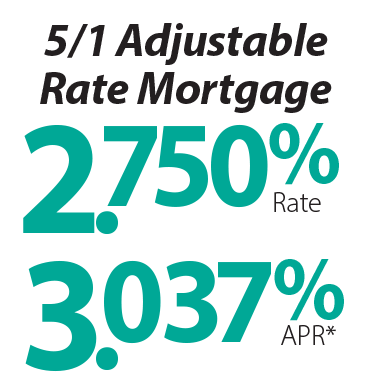 Lock in your rate for five years!
With a 5/1 Adjustable Rate Mortgage (ARM), you gain some flexibility and a lower initial payment. Lock in the initial rate for five years, and then afterward the rate adjusts — up or down — every year.
For our other competitive mortgage options, visit our Customer Care Center.
 *Annual Percentage Rate (APR) effective 9/8/20 is based on 20% down payment and subject to change without notice. This is a variable rate loan and the APR may increase after consummation. Our adjustable rate mortgage offers an initial interest rate that is fixed for a 5-year period. After that period, and every year thereafter, the interest rate can adjust based on current market conditions. Each adjustment has a 2% change cap and a 6% lifetime change cap. Property insurance is required. Subject to credit approval. Payments per $1,000 borrowed are as follows: Months 1 through 60 at $4.08, Months 61 through 359 at $4.25, Month 360 at $4.27. Payments do not include real estate taxes or insurance, if included the actual payment obligation will be greater.