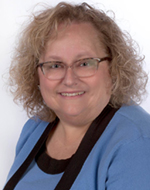 Susan Paley, vice president of community relations at The Village Bank, will be installed as president of the Rotary Club of Newton for the 2018-2019 Rotary year.
Over the course of her Rotary experience, Paley has served on the Community Service, Scholarship, and Newton Has Talent committees, as well as serving as on the Board of Directors as the Speaker Chair. She also serves on the planning committees for the Mayor's Prayer Breakfast and Martin Luther King, Jr. Annual Celebration, both key partnerships between the Rotary, the City, and The Village Bank.
An active member of the community, Ms. Paley currently serves on the boards of the Newton Cultural Alliance and Historic Newton, as well as various committees of the Newton Needham Chamber of Commerce. She has also served on the City of Newton's Council On Aging, and its Fair Housing Committee, as well as on the advisory board of Newton Pride.
"I am excited to begin my term as president of the Rotary Club of Newton. Rotary's mission of 'Service Above Self' is important to me, and to the way in which I live my life. I have found in Rotary a dedicated group of like-minded neighbors and, together, we can make a difference right here in Newton as well as in the wider world community," says Paley.
In her new leadership position with Rotary, she succeeds Susan Peghiny, who will continue to serve on the board and as membership chair. Other board members include: Andrew Willinger, technology consultant; Cindy Laughrea, The Second Step; Devender Guhania, realtor; Maureen Grannan, Newton At Home; Paul Sullivan, American Red Cross; Rae Mintz, Order in the House; Jack Fucci, West Suburban YMCA; David Sellers, John M. Barry Boys & Girls Club; and, David Park, attorney.
Major upcoming initiatives for Newton Rotary include sponsorship of the Newton Free Library's "Summer Discovery" program which will engage hundreds of local children in building their literacy skills throughout the summer months. In addition, the Club has spearheaded a well-received response to combating the opioid crisis with its "Rotary Addiction Prevention Seminars," which will be rolled out throughout Massachusetts and beyond in the coming months.
"Rotary International has been credited as the major force in eradicating polio world-wide," Paley stated. "Today, we see opioid addiction as the largest health threat of our time, and we pledge to do all in our power to assist in controlling its reach."
Fast approaching its 100th anniversary, The Rotary Club of Newton serves the community and fosters the idea of "Service Above Self" locally and worldwide, through the dedication of volunteers and the generosity of supporters. The Club meets twice a month at the Braeburn Country Club. Additional information is available at RotaryNewton.org.