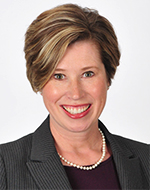 Joseph De Vito, president and CEO of The Village Bank, announced today that Amy Werner of Woburn has joined the bank as senior vice president of retail banking.
Werner's financial services background includes over 20 years with Lowell Five Savings Bank, where she rose through the ranks to become executive vice president of retail banking and marketing. During her tenure, she served successfully in management leadership positions in areas including marketing, retail management, public relations, fundraising, sales, and human resources.
More recently, she served as director of philanthropy, volunteer, and concierge services at Lowell General Hospital, where her role included fundraising and budgeting and serving as a key decision-maker on the Hospital's Capital Committee, Employee Competency Committee, and Strategic Planning Alignment Committee.
Currently pursuing a master's degree from Bay Path University, Werner earned a bachelor's degree in business administration, magna cum laude, from the Isenberg School of Management at University of Massachusetts-Amherst. She also completed studies at the New England School for Financial Studies at Babson College, served as a collaborative member of the Deluxe Knowledge Exchange National Banking Curriculum Program, and was a member of the Major Gifts Track with the Association for Healthcare Philanthropy with the University of Wisconsin.
Active in the community, Werner serves as a corporator of the Boys and Girls Club of Greater Lowell, chairman of Project Learn, and a board member of Community Family Adult Day Health Care and Lowell High School Distinguished Alumni.
She has also served in volunteer leadership roles with the Women Working Wonder's Fund, Northern Essex Community College Foundation, the Board of Governors of Lowell General Hospital, Greater Lowell Chamber of Commerce, Young Professionals of Greater Lowell, Revolving Museum, United Way's Summer Experiences, and Big Brothers and Big Sisters of Greater Lowell.
Her contributions to the community have been recognized with numerous awards including the Nonprofit Alliance's Board Member of the Year, Community Team Work Local Hero, Community Family Volunteer of the Year, and Big Sister of the Year. She was also named one of Greater Lowell's 20 Top Women in the Salute to Women.
"Amy's solid financial services education and experience and her history of community commitment make her a perfect match for The Village Bank, for our customers, and for the neighborhoods we serve," said De Vito. "We're pleased to welcome her to our management team, and we look forward to her contributions to our continued success."