Personal Debit Card
Your card. Your cash.
Breeze through the checkout line and monitor your spending with a debit card from The Village Bank.
For purchases, both in-person and online.
Purchases & other transactions.
Using your Mobile Wallet.
If your debit card is lost or stolen, we can replace it for you quickly at any of our branches.
Add a digital version of your card to Apple Pay®, Google Pay™, or Samsung Pay, then pay for purchases wherever you see the contactless payment symbol, simply by holding your device near the terminal.
When you use your Village Bank Mastercard debit card you can pay with a quick tap wherever you see the contactless symbol.
Login to Online or Mobile Banking to control your card, including turning it "off" if you have misplaced it, setting spending limits and restricting certain types of purchase (for example, online).
We monitor the activity on your card in order to keep your hard-earned money safe. Our text alert function can send a text to your mobile device should we suspect fraudulent activity on your account.
Access a number of Identity Theft resolution services should you believe you have been a victim of Identity Theft. The service also monitors the internet for compromised information and alert you if anything is found.
If you need assistance with your debit card, including reporting a lost or stolen card, you can contact us any time, day or night by calling (617) 969-4300 and one of our representatives will be happy to assist you.
We recommend that you contact us through Online Banking, or call before you leave at (617) 969-4300, to prevent interruption.
Mastercard Airport Concierge™
Enjoy a 15% savings on Airport Meet and Greet services. Arrange for a personal, dedicated Meet and Greet agent to escort you through the airport on departure, arrival or any connecting flights at over 700 destinations worldwide 24 hours a day, 7 days a week, 365 days a year.
Google Pay is a trademark of Google LLC.
Apple Pay is a registered trademark of Apple Inc.
Samsung Pay is a registered trademark of Samsung Electronics Co., Ltd.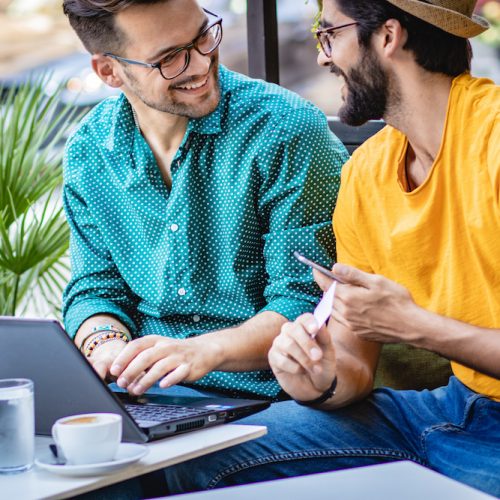 I'm with The Village Bank because…

LOVE that we have a personal relationship with the branch manager in Newtonville. The kindness of tellers. Low Key. Easy to get assistance when I call into the service center.
Personal Debit Card