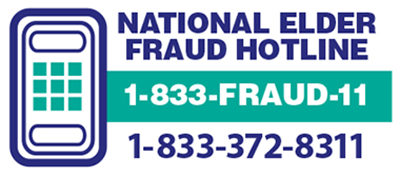 Senior citizens are one of the largest groups targeted by financial fraudsters. Last year there was an estimated combined loss of over a billion dollars in elder fraud schemes nationwide. In response to the fraud, The Department of Justice launched a National Elder Fraud Hotline, which will provide services to seniors who may be victims of financial fraud.
If you or someone you know suspects that they have been a victim of fraud, call the hotline's toll-free number 1-833-FRAUD-11 (1-833-372-8311).
The Hotline is staffed by experienced case managers who can provide personalized support to callers. Case managers will assist callers with reporting the suspected fraud to relevant agencies and by providing resources and referrals to other appropriate services as needed.
When applicable, case managers will complete a complaint form with the Federal Bureau of Investigation Internet Crime Complaint Center (IC3) for Internet-facilitated crimes and submit a consumer complaint to the Federal Trade Commission on behalf of the caller.