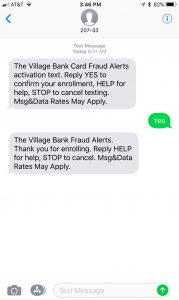 Throughout this week, our Debit Card customers may receive a text message welcoming you to our new Debit Card Fraud Alerts system.
As part of our ongoing efforts to protect you from fraud, we're pleased to offer new card fraud text alerts to notify you about possible fraudulent card activity.
Once you reply, you'll be automatically enrolled.
We also have the ability to manually enroll any phone number to receive messages, so if you haven't shared your cellphone number with us, you can call us at (617) 969-4300 to enroll.
Here's a sample of the text message you will receive.